First in Myanmar: Visa cards now accepted at City Mart
03/25/2015
City Mart to become first supermarket chain in Myanmar to accept Visa cards with the help of KBZ Bank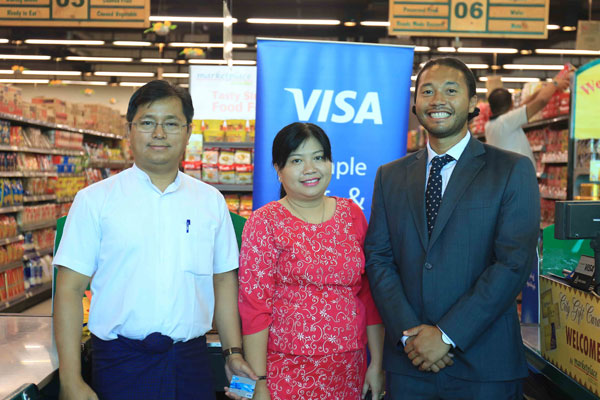 Shopping just got easier in Myanmar: City Mart's Marketing Director Daw May Zin Soe Htet (center), KBZ Bank Managing Director U Aung Kyaw Myo, and Hiro Taylor, Visa's Country Manager, Myanmar, celebrate the first electronic payments at City Mart's Marketplace branch in Yangon using Visa card
Shopping is about to become simpler and more convenient at City Mart as the country's largest, leading supermarket chain teams up with Visa and KBZ Bank to rollout card acceptance across selected branches - a first for a supermarket chain in Myanmar.
Now customers can pay with their Visa prepaid, debit and credit cards at City Mart, starting with Junction Square, Market Place by City Mart at Golden Valley and Market Place by City Mart at Parkson branches in Yangon.
"We congratulate City Mart on becoming the first supermarket chain to rollout card acceptance in Myanmar. For customers, paying with a Visa card is simple, safe and secure, eliminating the risk of carrying too much – or too little – cash. As for businesses, they can increase their sales safely and securely, knowing that their money will be deposited to their bank accounts the following day,"1 said Hiro Taylor, Country Manager for Visa, Myanmar.
"Visa is proud to support the rollout of card acceptance in Myanmar and we look forward to working with more merchants as we continue to develop the financial infrastructure and expand access to electronic payments across the country," added Mr. Taylor.
Since entering Myanmar in 2012, there are more than 1,800 retailers and 1,150 ATMs accepting Visa cards.
From 24 March until July 31, customers who spend 20,000 Kyat at City Mart will get a free pack of Royal Myanmar Teamix worth 1,000 Kyat.2
1 Terms and conditions apply: depending on individual banks
2 Terms and conditions apply. Promotion starts 24 March and ends 31 July or while stock lasts. Limit to one pack per sale slip and three packs per cardholder. Premium offer is on a first come, first serve basis.
About Visa
Visa Inc. (NYSE: V) is a global payments technology company that connects consumers, businesses, financial institutions, and governments in more than 200 countries and territories to fast, secure and reliable electronic payments. We operate one of the world's most advanced processing networks — VisaNet — that is capable of handling more than 56,000 transaction messages a second, with fraud protection for consumers and assured payment for merchants. Visa is not a bank and does not issue cards, extend credit, or set rates and fees for consumers. Visa's innovations; however, enable its financial institution customers to offer consumers more choices: pay now with debit, pay ahead of time with prepaid or pay later with credit products. For more information, visit usa.visa.com/about-visa, visacorporate.tumblr.com and @VisaNews.